Thank you for your interest in
NEW YORK DIVINE RAGDOLLS!


Kittens:
Flame Lynx Point Mitted Male twelve weeks old neutered and vaccinated.  ADOPTED
ADULT AVAILABLE:
Tuftytoes Huey is a Solid Brown/Black Tabby Bicolor Male Ragdoll
                                                                  who is fully traceable to Ann Baker's (creator of the breed) solid foundation cats of the Ragdoll Breed.
                                                                   It is time for him to retire. He is an absolute sweetheart and a true lap cat that loves                                                                                                                        to bury his head against you to be pet.
He will shower you with kisses and cuddle all
                                                                  day long. I would prefer
that he goes to a loving home that can give him lots of undivided attention
                                                                   without the competition of other animals in the household. He has been neutered and is extremely healthy,
                                                                   as he has tested negative/normal for Felv/FIV, HCM, MPS, etc.  $500                                      

WAIT LIST WITH DEPOSITS:
Lisa Cinnamon Carrier Pointed Female

Nicole Bicolor Male

Jack Colorpoint Female

Jamie Blue Mitted or Bicolor Male

* AVAILABLE–Ready to be adopted
* ON HOLD–Awaiting deposit 
* RESERVED–Deposit Received
* UNDER EVALUATION–Cattery Hold for
show 
and/or breeding purposes
OUR Ragdolls are Kid Approved!!!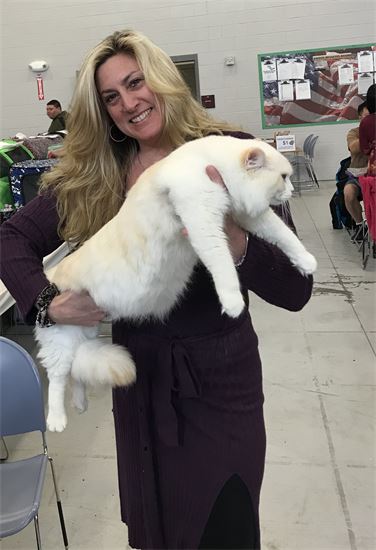 Visitation will not be permitted until after their first FVRCP vaccination is administered.  You may contact me for further information or click on: Purchase Info.
 If you know the exact color, pattern, and/or sex of the kitten that you desire, then you may leave a $500 deposit to reserve the baby of your dreams.  
 ***ALL of our breeding cats are thoroughly tested for genetic disorders and found to be ALL CLEAR:  RagdollDNARegistry ***