Thank you for your interest in
 NEW YORK DIVINE RAGDOLLS!  
***Please check back with us in the late spring when we have new litters–we will have a retiree or two available as well!**
Ares x Shalimar Litter Born 3/3/21
                                                                                            Seal Mink Bicolor Male RESERVED for Alberto
                                                                                            Blue Mink Bicolor Female RESERVED for Sue
                                                                                            Seal Point Mitted Male RESERVED for Taylor
                                                                                            Seal Point Mitted Male ADOPTED by Jenna S

                                                                                            Blue Point Mitted Male ADOPTED by Joanne
                                                                                            Seal Point Bicolor Male RESERVED for Nicole

                                                                                           Blue Point Mitted Female CATTERY HOLD
SGC Demetrius x Juliet Litter Born 3/8/21
                                                        (These babies will be seal, blue, chocolate, or lilac high mitted bicolors and possibly lynx)
                                                                                           Seal Point Bicolor Female RESERVED for Taylor
Seal Point Bicolor Female ADOPTED by Julia
                                                                                           Seal Point Bicolor Male RESERVED for Jennifer L

                                                                     ***RETIRED ADULTS AVAILABLE APRIL 10!***
DollHeaven Jetsetter ADOPTED by Kim C
ElviasRDBabz Lady Liberty RESERVED for Kim P
WAIT LIST (deposits received) for
SGC Demetrius x QGC Maxine (all blue bicolors)
DOB: 4/27/21
Blue Point Bicolor Female Andres
Jason Home in mid-August Female
Brionna
ADOPTED by Barbara
Ares x Juliana (seal and blue possibly carrying cinnamon, half lynx, some mink possible,
in mitted, colorpoint, bicolor) due May 12:
Jenna W. blue,seal, or chocolate, any pattern, female
Lena K. blue bicolor female
Lauren M. Blue Lynx point
* AVAILABLE–Ready to be adopted
* ON HOLD–Awaiting deposit 
* RESERVED–Deposit Received
* UNDER EVALUATION–Cattery Hold for
show 
and/or breeding purposes
OUR Ragdolls are Kid Approved!!!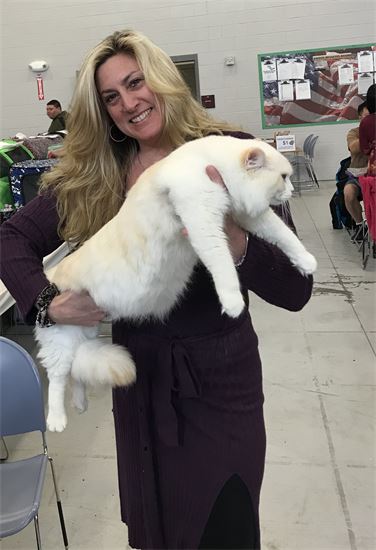 Visitation will not be permitted until after their first FVRCP vaccination is administered.  You may contact me for further information or click on: Purchase Info.
 If you know the exact color, pattern, and/or sex of the kitten that you desire, then you may leave a $500 deposit to reserve the baby of your dreams.  
 ***ALL of our breeding cats are thoroughly tested for genetic disorders and found to be ALL CLEAR:  RagdollDNARegistry ***