Thank you for your interest in
NEW YORK DIVINE RAGDOLLS!


Kittens:
Visitation of Eros x Isis Litter will be permissible week of
12/1/21.
All babies have deposits with the exception of one rare BEW Male who is currently available.
Contact me for photos and additional information.
ADULTS AVAILABLE:
NYDIVINEDOLLS Isis is a solid Blue Eyed White (BEW) Female Ragdoll who is the daughter to Jollytime Chocolate Chip (Chocolate Colorpoint) and Radiantrags Sugar of NYDIVINEDOLLS (BEW masking Seal Colorpoint). She is a stunning girl wrapped in bunny soft pure white fur with deep sapphire blue eyes and an incredible temperament. She is a robust girl and is up to date on all vaccinations, as well as Negative/normal for Felv/FIV, HCM, MPS, etc. DOB: 3/26/20. $1800 AVAILABLE
***PLANNED SPRING 2022 LITTERS***
CH Eros x Venus

Possible colors/patterns: Seal, Blue, Chocolate, and/or Lilac in True Bicolor and Colorpoint patterns.
RW SGC Demetrius x Chantilly
Possible colors/patterns: Seal and/or Chocolate only in High Mitted Bicolor pattern.
Ares x Harmony
Possible colors/patterns: Seal and/or Blue, half may be lynx, in High Mitted Bicolor and Mitted patterns.
WAIT LIST WITH DEPOSITS:
Lisa Cinnamon Carrier Pointed Female

Nicole Bicolor Male

Jamie Blue Mitted or Bicolor Male

* AVAILABLE–Ready to be adopted
* ON HOLD–Awaiting deposit 
* RESERVED–Deposit Received
* UNDER EVALUATION–Cattery Hold for
show 
and/or breeding purposes
OUR Ragdolls are Kid Approved!!!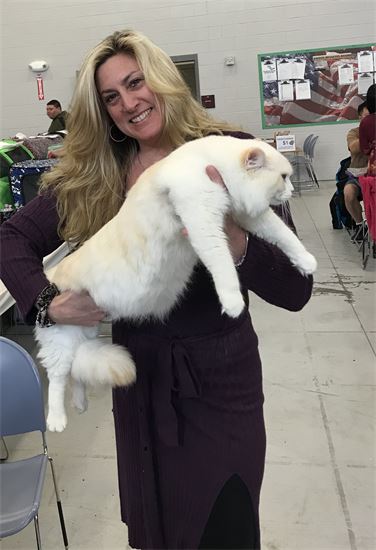 Visitation will not be permitted until after their first FVRCP vaccination is administered.  You may contact me for further information or click on: Purchase Info.
 If you know the exact color, pattern, and/or sex of the kitten that you desire, then you may leave a $500 deposit to reserve the baby of your dreams.  
 ***ALL of our breeding cats are thoroughly tested for genetic disorders and found to be ALL CLEAR:  RagdollDNARegistry ***