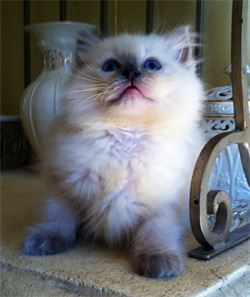 All kittens will be made available to people, who have sent a deposit, after 12-16 weeks of age. NY Divine Dolls reserves the right to first pick and hold any kittens that we feel are breeding and/or show quality in any of our given litters. Deposits are based on a first come, first serve basis.  The first customer to put down a deposit, on the kitten of their choice, is the customer that gets to take that baby home. NYDIVINEDOLLS Cattery is triple registered with the following feline fanciers organizations (click on abbreviations to be taken to their websites):
The International Cat Association
Cat Fanciers Association
PLEASE READ BEFORE APPLYING A DEPOSIT:
All deposits are NONREFUNDABLE.
 IF YOU CANCEL ON THE PURCHASE OF YOUR KITTEN, YOU WILL LOSE YOUR DEPOSIT. 
Final payments received are nonrefundable, but ARE TRANSFERABLE.
 Personal checks are accepted for initial deposits. 
I do not accept money orders or certified bank checks. 
FINAL PAYMENTS are to be made in Cash, Venmo, or via Zelle.
Visits are permitted at my home only after the kittens have had their first vaccination at 8 weeks.  All reserved kittens need to be paid for in FULL by eight (8) weeks old. If you are shipping your kitten, I must receive these payments by week seven (7), or if you are coming in person, please pay the balance due when you come to visit your kitten at eight (8) weeks of age. If your kitten is not paid in full by eight (8) weeks of age, the baby will be noted as once again being "AVAILABLE" and you will lose your nonrefundable deposit. By placing a nonrefundable deposit on a kitten, you are agreeing to all terms and conditions noted on this website and in the NY DIVINE Dolls contract.
If a kitten is to remain at NY DIVINE Dolls Cattery after twelve weeks (due to the owner going on vacation, moving, illness, etc.) a boarding fee of $140 per week will apply. 
We also reserve the right to refuse a sale or to return a deposit if we feel that you cannot provide a safe, loving home for one of our kittens. Please feel free to contact us at anytime with questions or to request any additional information that you might need. You may contact us via our "Contact" page to provide us with information pertaining to that which you seek. You may also call or text at (631) 848-4526.  Our email is as follows:  info@newyorkdivineragdolls.com .
We
provi
de
the following:
At least two FVRCP vaccinations

Rabies if kitten is 16 weeks or older 

Health record

 & health certificate from licensed veterinarian

Deworming




Application of Revolution or Advantage II 

TICA registration papers




Copy of buyer's contract

Goody bag with Life's Abundance food & treats




Kitten will receive mini-show bath,

 nails cut, and teeth brushed!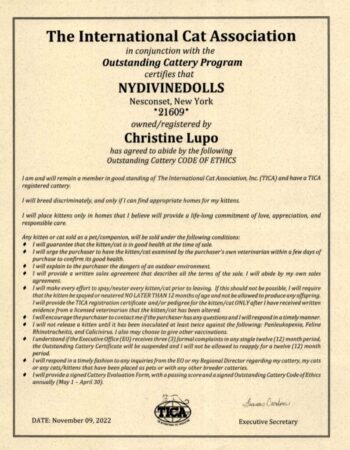 Suggested items for your new baby:
Litterbox

Litter scoop

Litter (see below)

Dishes for water

Toys

Stainless steel comb with wide/medium spacing

Cat carrier (bring this on pickup day)

3-foot minimum cat tree with sisal scratching surfaces

"Think Like a Cat" by Pamela Johnson-Bennett
PRICING depends upon the following:
To reserve a kitten, a NON REFUNDABLE deposit of $500 for a pet and $1000 for a breeder is required to hold the kitten of your choice.  The remainder must be paid in full at eight weeks of age in cash. If paying the initial deposit by check, the kitten of choice will be marked "Reserved" only AFTER the check clears. 
SHIPPING or TRANSPORT via a courier is available to kitten clients acquiring pets. This service is also available to those who wish to purchase a breeder, who have a well established cattery, who also show their stock at least once per year in an internationally recognized feline organization, such as TICA, LCWW, CFA, and/or CFF in order to maintain the Ragdoll Breed Standard. Shipping is also available to those who wish to acquire a companion; however, I insist on meeting in person at least once before the kitten is to leave the cattery. Use of a courier will be employed to those locations outside of the northeast region. This will minimize a stressful situation for the kitten. All transporting expenses are to be paid by the buyer prior to travel.  The Buyer is also responsible for the cost of the shipping crate/carrier and all vet expenses for the health certificate. These items are required in order to transport, or ship, your kitten and are not included in the price. We are located 50 miles east of New York City, in Suffolk County, just off of the Long Island Expressway, Interstate 495, in Nesconset, NY.
A contract must be signed when purchasing a NY Divine Dolls Ragdoll kitten or cat. This contract is designed to protect the buyer, the seller, and the welfare of the kitten or cat. 
LIFE'S ABUNDANCE ALL LIFE STAGES CAT FOOD
is fed to my KITTENS and breeding cats because it is formulated with a unique Digestive Health Support System, including active probiotics, healthy fiber, and digestive enzymes. It is high in calories, protein, and fat. When combined with other high quality proteins and natural ingredients, this recipe supports the absorption and utilization of vital nutrients throughout your feline's entire body.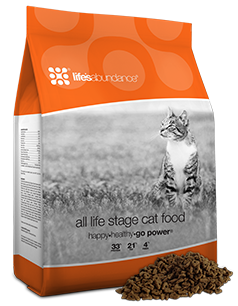 Life's Abundance Instinctive Choice Wet food is a premium, protein rich pet food designed to mimic the archetypal, natural eating patterns of our obligate carnivores–our cats. This is fed to my kittens twice per day, and once per day to my breeding cats.

It has added probiotics, vitamins, and minerals to support lifecycle health. Instinctive Choice is a grain-free diet.  Instinctive Choice is one of the few natural canned pet diets on the market that is truly genetically appropriate, and devoid of all the modern conventional pet food filler ingredients and additives!  Added moisture hydrates the body and helps support a healthy urinary system. Probiotics also aid in proper digestion.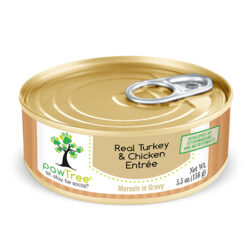 We have been feeding PawTree Turkey and Chicken morsels in gravy due to Life's Abundance's temporary inability to source their wet food. PawTree's wet food is the closest to the ingredients found in Instinctive Choice. PawTree Pre/probiotics is also sprinkled over the entree.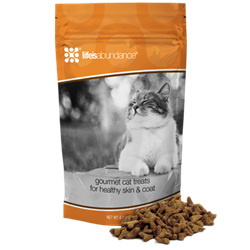 Life's Abundance Gourmet Cat Treats and Turkey Hearts for Healthy Skin & Coat features premium nutrition, with added vitamins, minerals and other trace nutrients, that nourish and protect skin and coats.
Because healthy skin is much more likely to produce strong, luxurious hair, it's vital to nourish the skin. The omega-3 fatty acids in this premium formula help prevent overly dry skin, while vitamin E helps maintain skin elasticity. The added vitamin C in this formula helps the body to produce collagen, skin's major component. And, because protein is necessary for the growth and maintenance of a strong, resilient coat, this delectable recipe features chicken, herring and chicken liver. Plus, cats adore the appetizing flavor of these savory nuggets.
For coats that are resilient and resplendent, simply add this dietary supplement to your cat's daily regimen.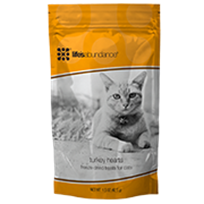 NY DIVINE Dolls kittens and adults use SO PHRESH Brand paper pellet cat litter that may be purchased with repeat delivery on Petco.com.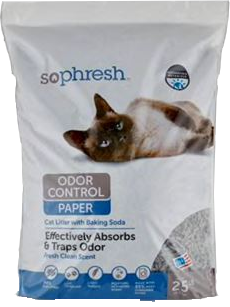 It consists of lightweight non-tracking, dust free pellets that will not coat kitty lungs and cause upper respiratory issues, nor will it cause harm if babies ingest it. It is made with 95% or more post-consumer paper that is infused with baking soda and Zeolite for outstanding odor control. It is three (3) times more absorbent than clay and much safer for the environment. 
NY DIVINE DOLLS  adult felines occasionally use Pretty Litter to ensure optimal health. It is available at the following link (just click on it): PrettyLittercats.com. 
Pretty Litter's revolutionary formula means a single bag, per cat, typically can last you an entire month. Unlike clumping litter, Pretty Litter absorbs and then eliminates moisture which means you do not need to keep replenishing your litter throughout the month.
Cats are notorious for hiding illnesses, so it's often hard to tell if they are sick or in pain. Pretty Litter makes it easier for you to know if your cat is experiencing a potential health issue before urgent medical care is needed, saving you money, stress and potentially your cat's life. Potential health issues that can be associated with color change include:
ALKALINE Certain types of urinary tract infections. High urinary pH can lead to bladder crystal and stone formation.
ACIDITY Metabolic acidosis & kidney tubular acidosis. Low urinary pH can lead to Calcium Oxalate.
BLOOD Bladder inflammation, bladder Stones, urinary tract infection.
Hepper Water Fountains are used for our kitties, as well, in order to keep their water oxygenated, filtered, and fresh. This drinking fountain features a new elevated design and multi-stage filtration for reducing impurities from water. This pet drinking fountain has a large surface area that results in higher oxygenation and re-circulating flow that ensures your cat does not receive stale and stagnant water.The flowing stream causes our cats to drink more and maintain optimal kidney function.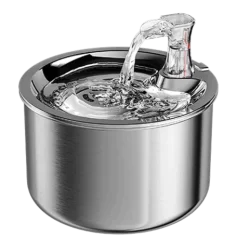 I use Arubacat Cat furniture from Arty Mitchell: