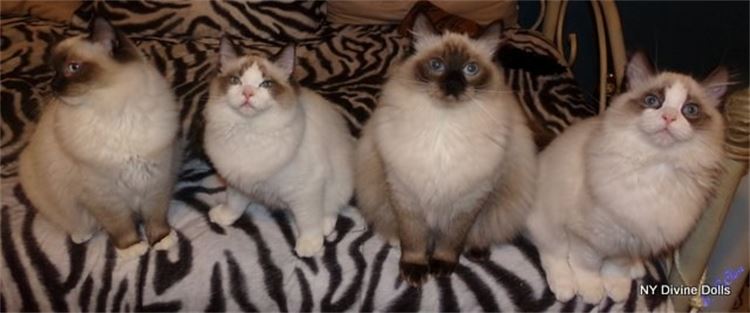 NYDIVINEDOLLS Cattery was established in 2008 when I acquired my first two Ragdolls. NYDIVINEDolls is managed by me, Christine Lupo, with the assistance of family members, including our German Shepherd dog, Miranda!  New York Divine Ragdolls Cattery is located in New York in the middle of Long Island in the lovely town of Nesconset. NYDIVINEDOLLS Cattery has chosen to become New York state licensed (Lic #1214) through the Department of Agriculture Pet Dealer Program. NYDIVINEDOLLS has also been awarded The International Cat Association 2023 Outstanding Cattery Certificate. NYDIVINEDOLLS Cattery is the home to numerous TICA Supreme and Quadruple Grand Champions! NYDIVINEDOLLS Cattery is triple registered with the following feline fanciers organizations (click on abbreviations, or logos, to be taken to their websites): The International Cat Association, TICA; Loving Cats Worldwide, LCWW; Cat Fanciers Association, CFA.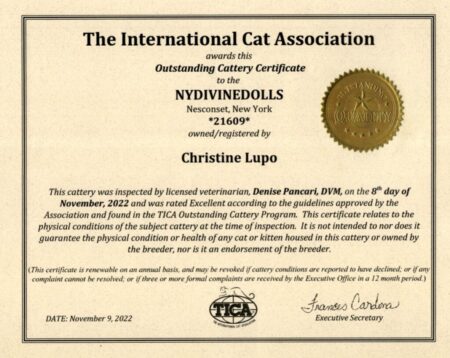 NEW YORK DIVINE DOLLS Ragdolls has placed kittens in New York, Connecticut, New Jersey, Pennsylvania, Massachusetts, New Hampshire, Maryland, Rhode Island, Maine, Vermont, Virginia, Tennessee, Indiana, Texas, Florida, and many other states as well as other countries, such as Turkey, Sweden, China, etc.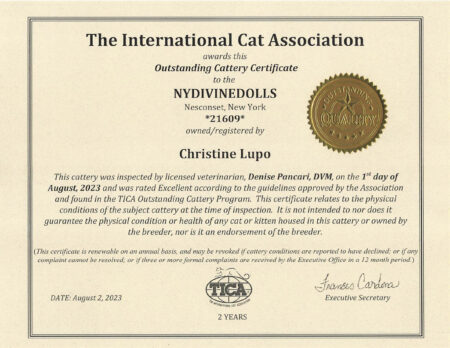 Exhibiting and breeding Ragdolls is an expensive hobby; however, it is my passion to advise and educate kitten clients, fellow breeders, exhibitors, junior exhibitors, and show spectators about the exquisite Ragdoll breed. I am both fortunate and grateful to be able to enjoy this passion. NY DIVINE Dolls is dedicated to producing the most exquisite, most docile, most genetically sound Ragdoll felines that provide years of love, joy, and companionship to their families. You may contact us via our "Contact" page to provide us with information pertaining to that which you seek. Our email is as follows:  info@newyorkdivineragdolls.com .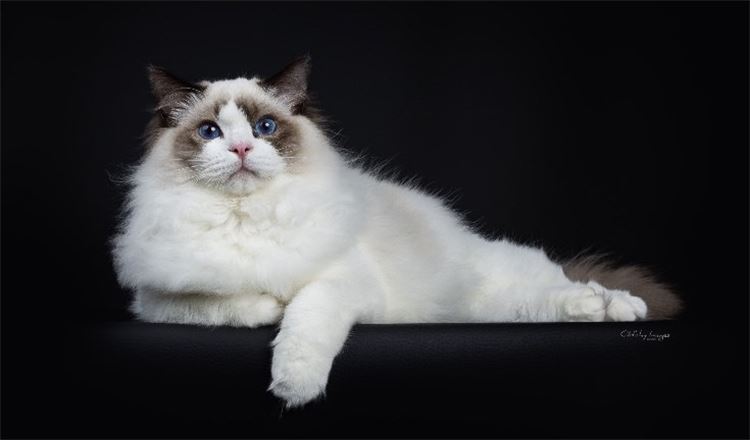 This is a cattery that permits each girl one breeding throughout the course of the year, unless the intensity and frequency of her heat cycle dictates the need for a second to avoid complications. Our Ragdoll cats and kittens are all TICA registered (some also with CFA  and LCWW). Our Ragdolls are raised with lots of love and attention in a cageless (for the most part), clean, and healthy environment in our home. We do incorporate the use of two extra wide, large three tier (36″H x 25″D x 70″H) quarantine cages for those kitties that have been purchased from other catteries, or for those who have just come home from a show to ensure all are healthy and to facilitate transition into their new environment.  These quarantine quarters are also for those that have been desexed to limit movement and to facilitate the healing process, as well as to quarantine those who may have become under the weather, so to speak. This protocol is followed to protect all within the cattery and to ensure undivided attention plus careful monitoring of a kitty's health, until once again well enough to join the rest of the family.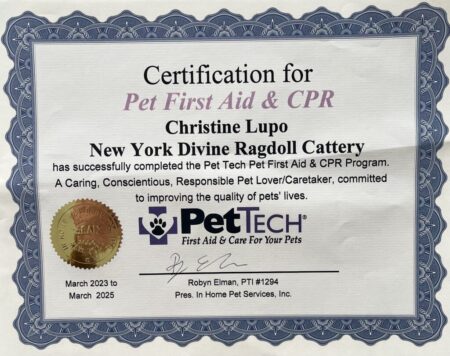 Kittens are generally ready to leave around 12-16 weeks of age.  Should the kitten not be ready to leave, this is a decision NY Divine Dolls shall make; likewise, NY Divine Dolls reserves the right to have first pick of any and all litters to hold back for our breeding program should we decide to do so. All of our cats live in the house with us, as they are a part of our family.  Heartiness, temperament, and conformation to breed standards, in that order, are our priorities in regard to breeding. Our mission is to to continue to be an established superior breeder, and exhibitor, of purebred Ragdoll cats and to serve clients desiring to complete their families with exquisite, robust, and affectionate feline companions. Once again, you may contact us for more information through our Contact Form.
Show News:
New York Divine Ragdolls is the home to TICA SUPREME GRAND CHAMPIONS! I am currently working on showing Regional Winner Supreme Grand Champion NYDIVINEDOLLS DOSS PERFECTION's (aka Demetrius) offspring to earn his title of "Outstanding Sire" (OS). His son, NYDIVINEDOLLS THOR just earned his Supreme Grand Champion Title that will count toward his father's OS! The sire must have ten offspring that have earned a Grand Champion Title, or higher, to be awarded the OS Title. The females need five offspring to earn Grand Champion, or higher, to be awarded the title of "Outstanding Dam" (OD). Regional Winner Quadruple Grand Champion NYDIVINEDOLLS MAXINE CHERIE will be sending some of her babies sired by Thor to the show hall this coming season—stay tuned!
Parentage verification has been utilized in animal registration programs. Breeder experiences have proven that parentage testing, in combination with well-run breeding programs, ensures accurate pedigrees.  All of NY DIVINE Dolls breeding cats have had their genetic markers identified through UC Davis. New Queens and Kings will not be bred until all genetic testing has been completed. In addition to genetic marker testing, our kings, and all of our queens, have been tested for Ragdoll Hypertrophic Cardiomyopathy (RD HCM), Mucopolysaccharidosis VI Severe and Mild (MPS VI), Feline Leukemia Virus (FeLV), as well as the Feline Immunodeficiency Virus (FIV) and found to be negative. NY Divine Dolls Ragdolls are certified NEGATIVE/Normal for RD HCM and MPS VI by Dr. Niels Pedersen of the University of California, Davis, Veterinary Genetics Laboratory and/or Optimal Selection. We have also tested some of our breeders for Polycystic Kidney Disease (PKD1) and Progressive Retinal Atrophy (PRA) based upon the lines from which they came. 
All kittens are dewormed before they go to new homes and one application of Revolution, or Advantage II, is also administered; furthermore, they receive at least two FVRCP vaccines, one non-adjuvanted Rabies vaccine if still residing in the cattery at or after 16 weeks of age. All NYDIVINEDOLLS Ragdolls acquired as pets are to be spayed/neutered within a specific timeframe, and it is stated as such in our contract. We provide a FIVE (5) year genetic health guarantee (see contract for specific details). At the time of pick-up, you will be given a health record indicating that immunizations and deworming are up-to-date. We will not allow any of our kittens to be declawed as per our contract.
NY DIVINE Dolls is a closed cattery, and as such we do not permit our cats to be utilized for stud service. We are not affiliated with any other cattery within New York. As stated earlier, the health, and well being, of all of our felines is of the utmost importance. 
NYDIVINEDOLLS reserves the right to first pick of every litter should we decide to hold back a kitten for show/breeding purposes to improve the breed lines.
.
Please also visit these other websites with which NYDIVINEDOLLS Cattery is affiliated:
Research before purchasing a Ragdoll Kitten!
Feel free to copy and paste our banner to your site!